Aug 20, 2018 07:07 PM Central
In loving Memory of "Faith"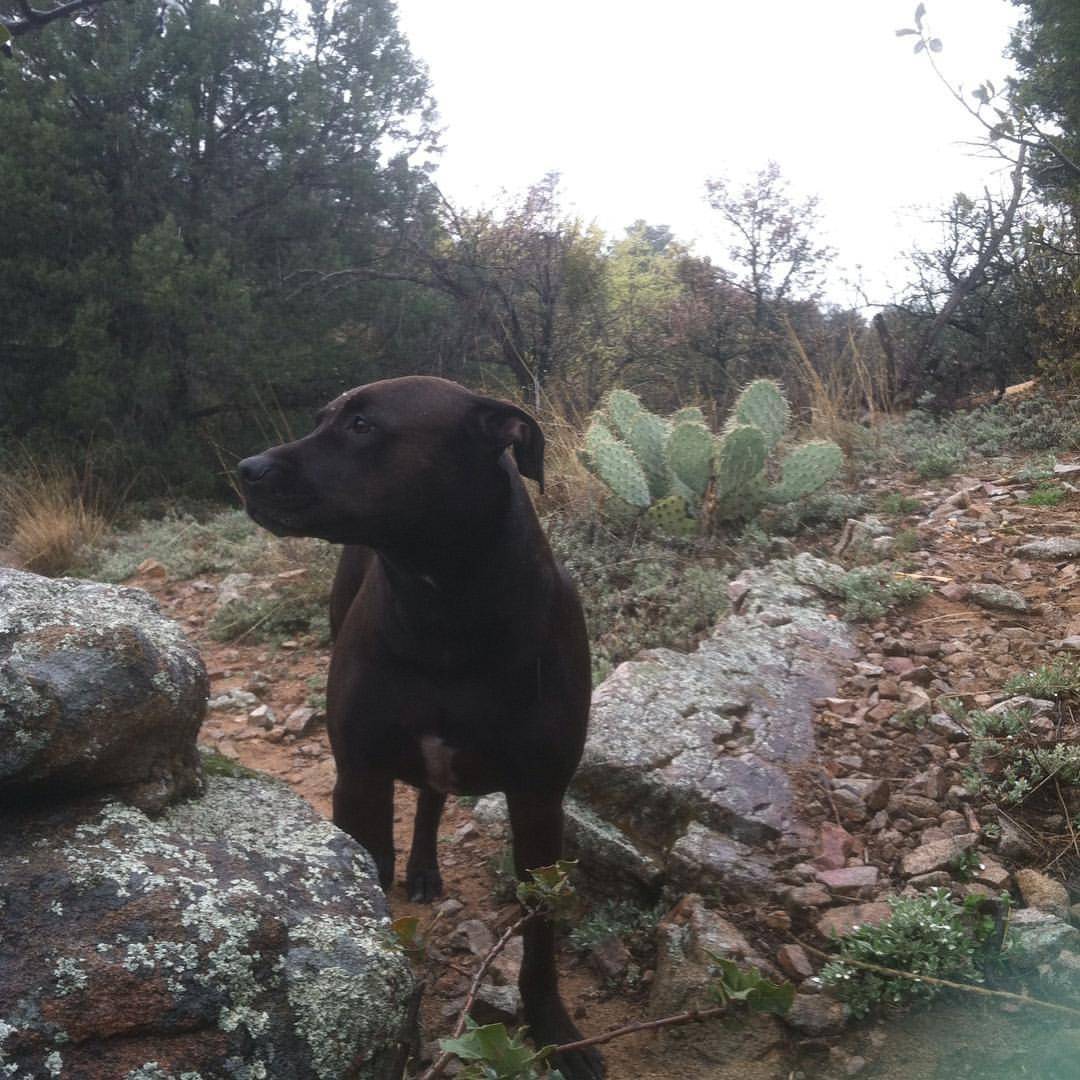 By Cheryl Luttrull
I wrote this story after going through some of the toughest times in my life. I thought this story, although it also shows a wonderful place to visit, best depicts one of the many ways FAITH, a pit bull/lab, helped to rescue us
!
This journey I took with my "Faith" by my side was not only a time to say goodbye to many things in my life, but also to prepare me for change and the goodbyes to come! I hate saying good bye! I am a gal that tries to face my fears… but to say goodbye seems so hard for me. I am usually able to quickly let go of most things and move on… but this time…this year…was different! We all have to find our own personal ways of saying Good-Bye. We can and should get help and support from others, but in the end we have to be able to live with ourselves and move forward.
My dear "Faith" is no longer with us and I had to say goodbye once again! I try and focus on the good times that we had. I know in my heart that I was able to help Faith during our short time together and she helped us in too many ways to mention. Memories of her are continually all around us and I never want to erase any of them! "Faith" will always be with me! I will chose to turn every memory of her in our home and places we traveled together into lovely memories that we shared together!
THANK YOU FAITH…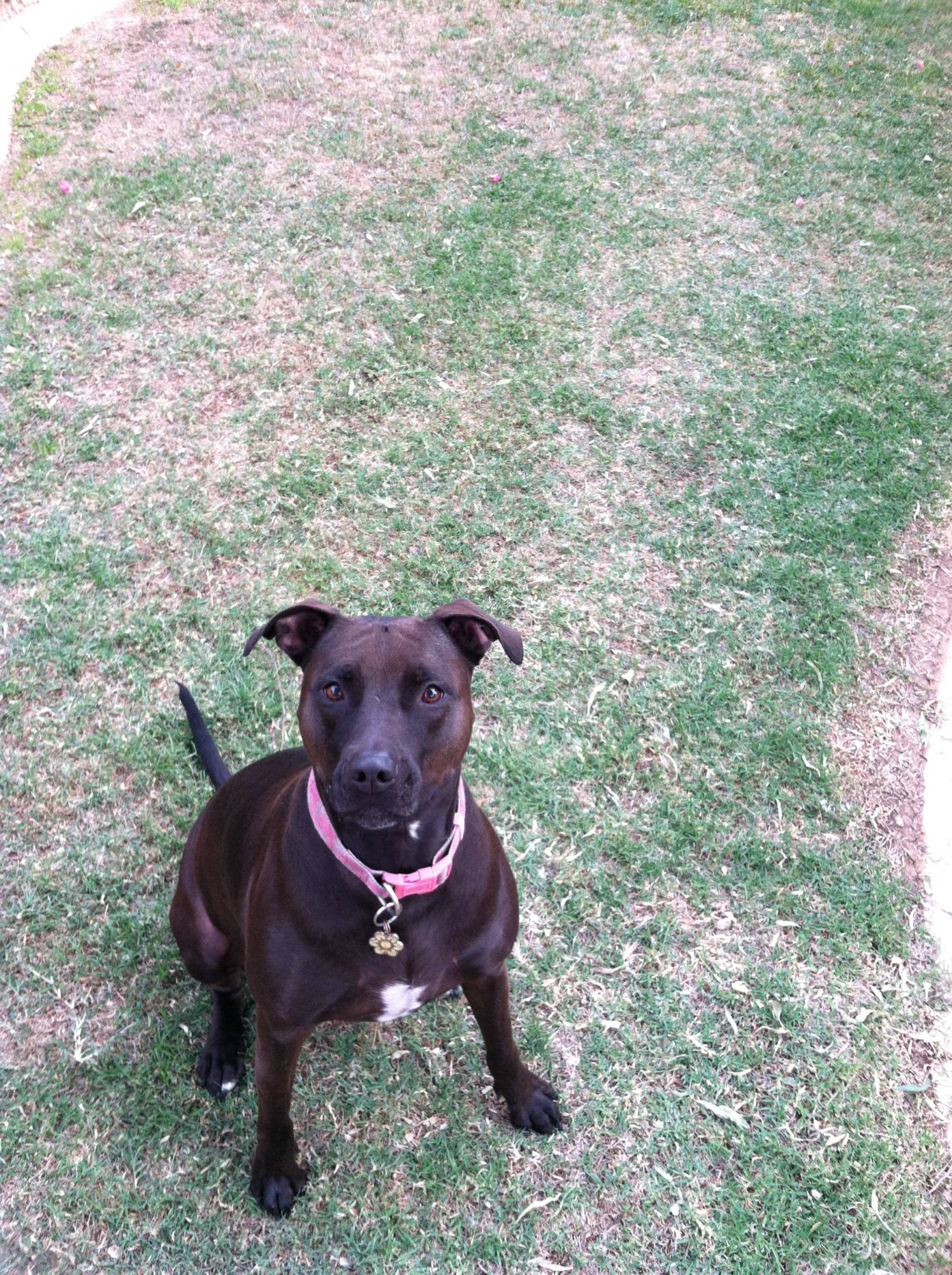 "Faith" & "Change"
At "Grand Falls" Arizona
By Cheryl Luttrull
Speaking of change…Technology is changing the world…like it or not! We can research and visit beautiful places on our phones and computers and imagine what it would be like to be there …BUT…In my opinion there is nothing like the experience of "be-ing" there!
I had heard about Arizona's own "Niagara Falls" and yes I looked it up on the internet. No story or online pictures could ever share how special this place really is. Read on as I tell my story about Arizona's beautiful "Grand Falls." I wasn't expecting to deal with any of my personal feelings today but "Change" found me!
I woke up knowing that we were going on a jeep ride. We often don't know where, as that is part of the fun of it! I suggested we do something differentand that we should drive out to Leupp Az to see the "Grand Falls." We wondered if we should even make the drive because of the chance the falls may not be flowing. We also knew that it really didn't matter because just driving out into nature is always an adventure. I felt in my heart that it would be flowing! I had read that the water only flows 6 or 7 times a year but I knew this was our time to go. Sometimes life is just a "BY FAITH ADVENTURE"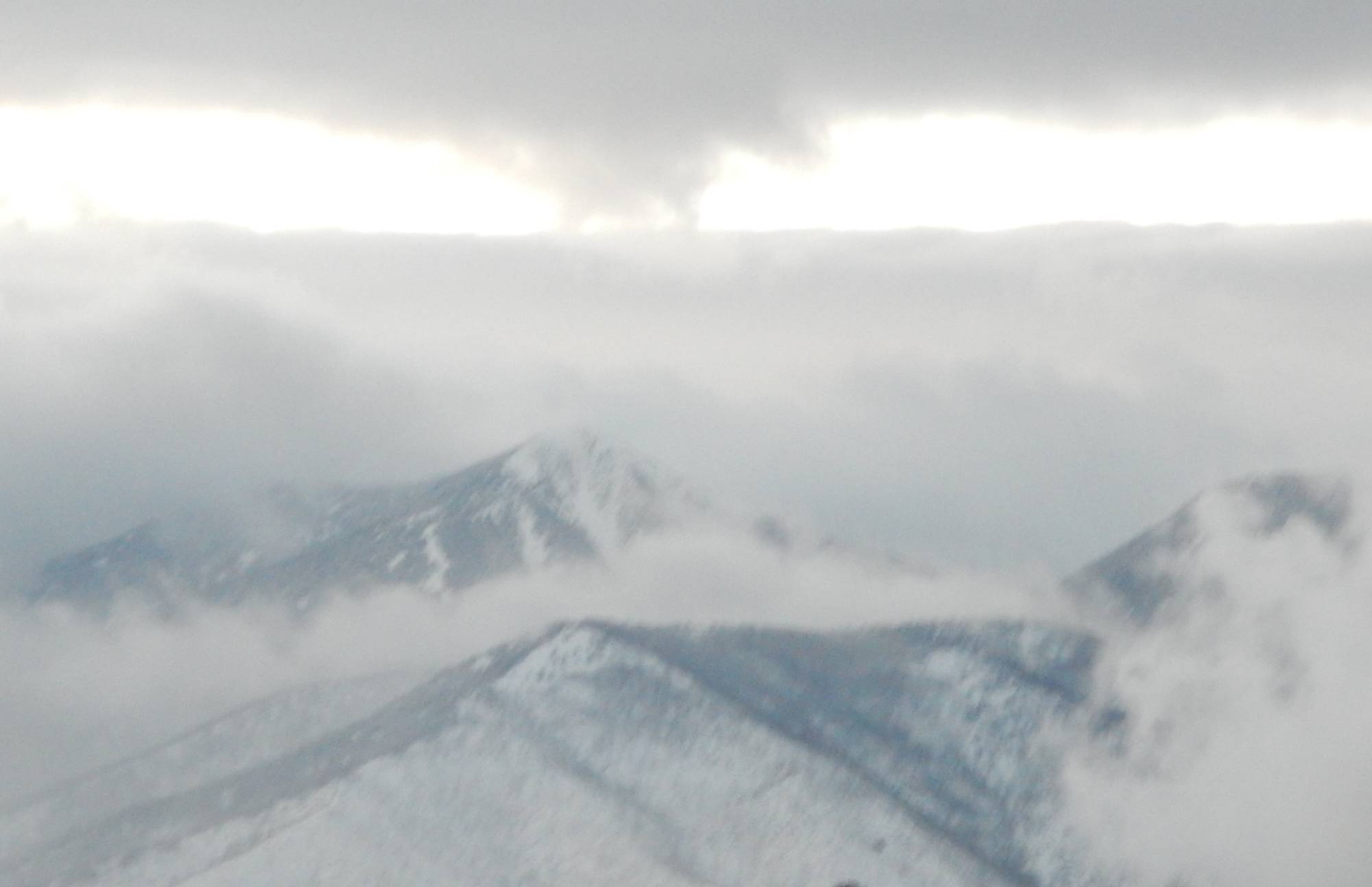 I sit here writing about this day and am still majestically in awe. As I said, Jeeping is always relaxing and therapeutic for us but I did not realize the new chapter in life that this day would bring for me!
Usually we try and find less traveled roads for our weekend adventures but I was pleasantly surprised at our views while traveling along the freeway on this wet snowy day! Beautiful snowcapped mountains were all around us as we arrived on the Navajo Reservation. Clouds hovered over the peaks and decided to stay there for most of our visit.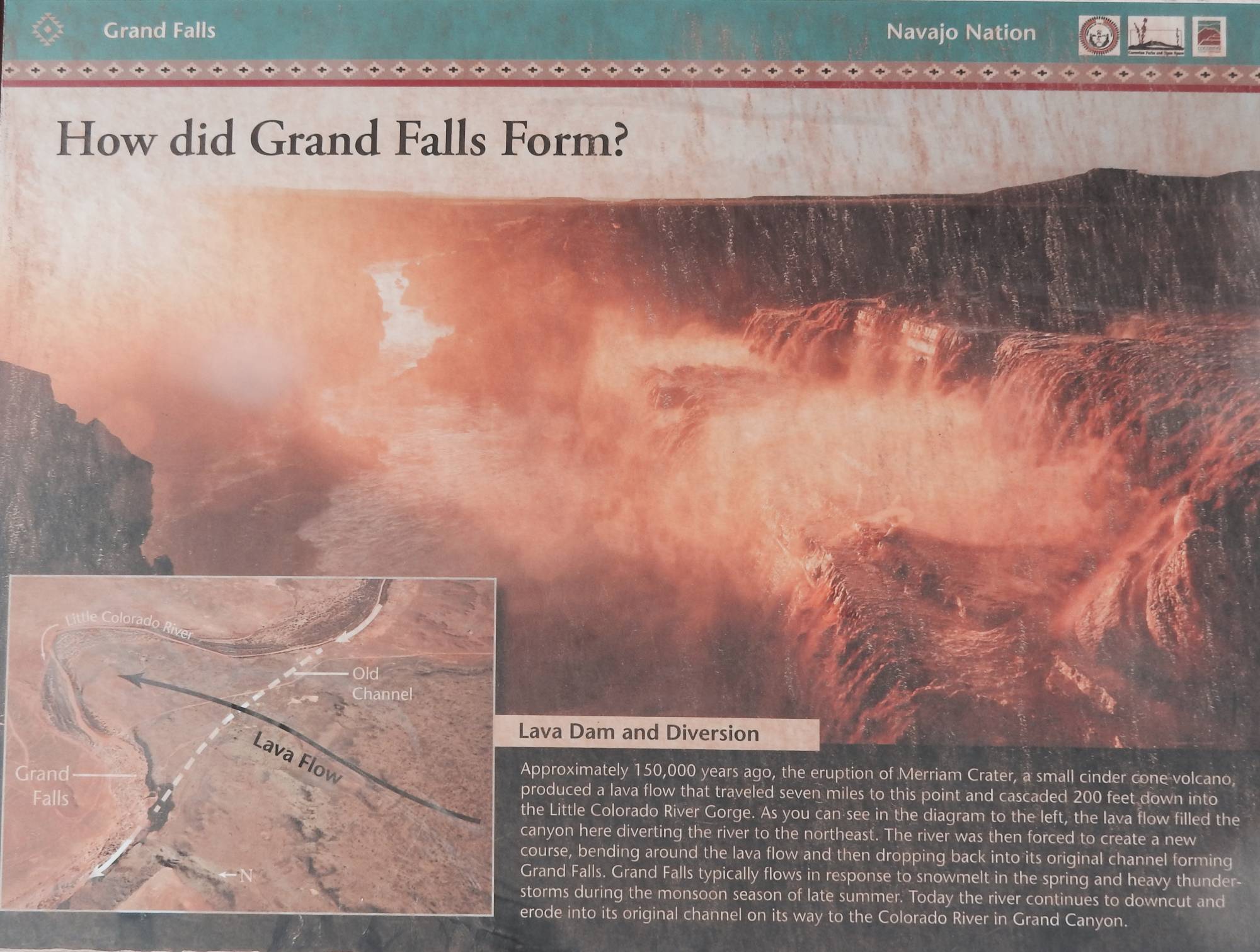 When we arrived at the Grand Falls monument we were delighted to see that we had the place to ourselves. Wondering how long we could steal the moment, we all hurriedly hopped out of the jeep to see if we were blessed with a flowing falls. The sky was dark and it was cold and windy! I could hear water rushing so I knew at least some water was present. The chocolate water from the Little Colorado River was rushing over the boulders hurriedly on its way. We would be content in seeing this beauty yet wondered if we would experience the "Grand Falls" as we walked along the path. We took pictures and enjoyed reading the informational plaques about the area. There were very nice restroom facilities and several covered resting spots, some with picnic tables, which were strategically placed for viewing.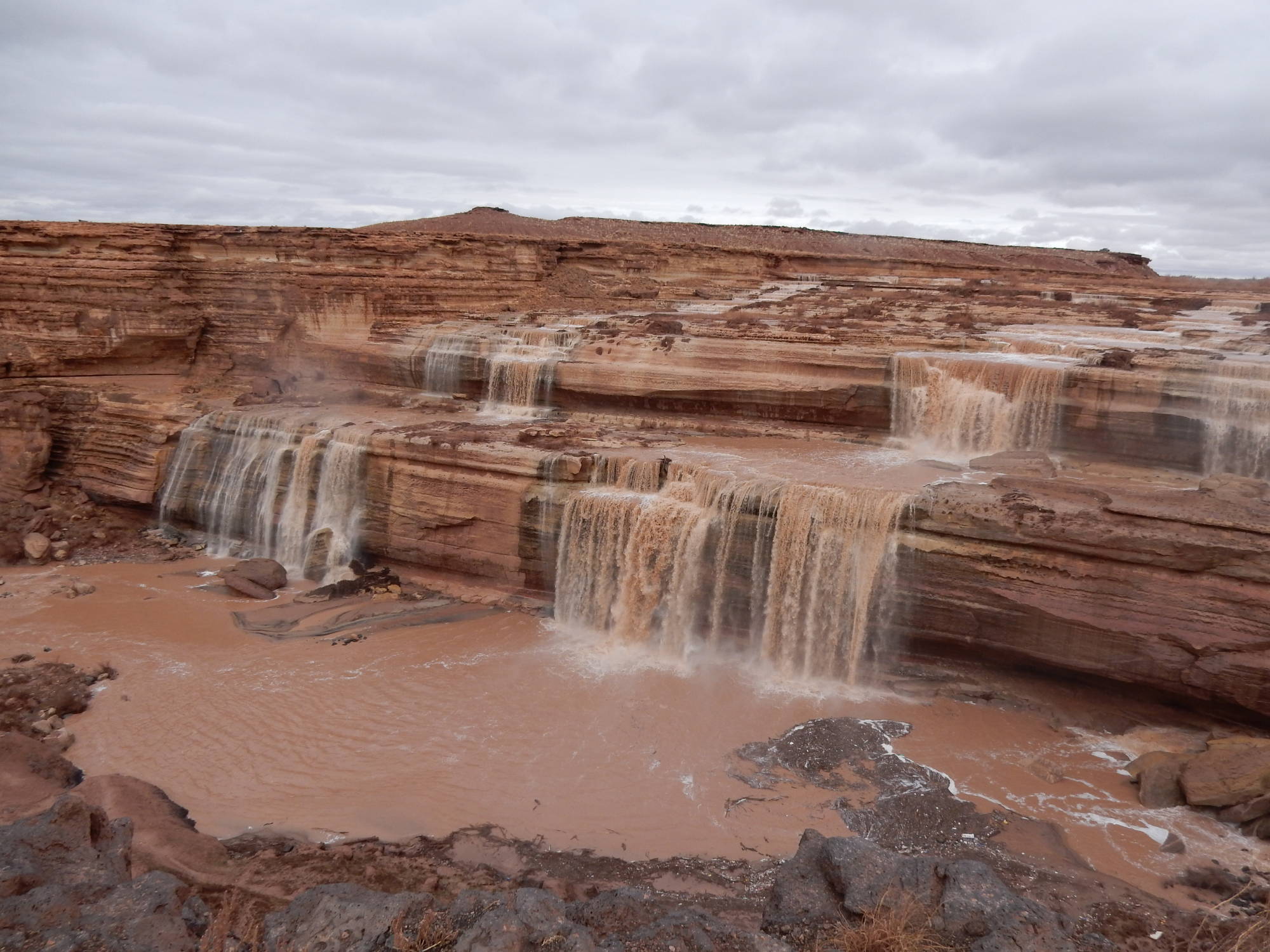 As we walked down the hill we noticed a mist rising! Our hearts leaped with joy knowing the falls were waiting our arrival. Again, we were content with the view from the top and stood mesmerized by the sound of the rushing water cascading down, starting its very own new adventure.
Others were starting to arrive now so we quickly took Faith for a run down to the next leveled look out area. We wanted to take in as much as we could by ourselves. I noticed a seat near the ledge that looked as if it had been shaped and formed just for me! Nature is therapy and I can never soak in enough into my soul. Anthony sensed that I needed time to myself and went back to the jeep to get us some warm tea from our thermos. Faith and I sat for a while and listened to the serenity of the wind and water. It came to me that it was time for "Change" and time to release some of my thoughts and feelings that were surely ready to be let go.
I picked up a small stone to represent my concerns as I would not have been able to lift one comparable to my cares. I quickly dropped the stone down the cliff and I wondered if my stone had bounced off of each descending ledge chipping away at the sharp edges as my life had felt in the last few months. I wondered if my stone had even reached the bottom or sat waiting for me to release what was left in me.
As always, with perfect timing, Anthony brought over our hot tea and crouched beside me to help warm my heart and spirit. They stayed by my side, as our best friends do. Often Faith is impatient and whining to move on… but this time she knew.
I breathed in every drop I could of the fall's splendor as we were not sure if we would be able to get any closer to the cascading falls. People were also starting to descend down and we knew if we wanted "our time" in nature we must keep moving.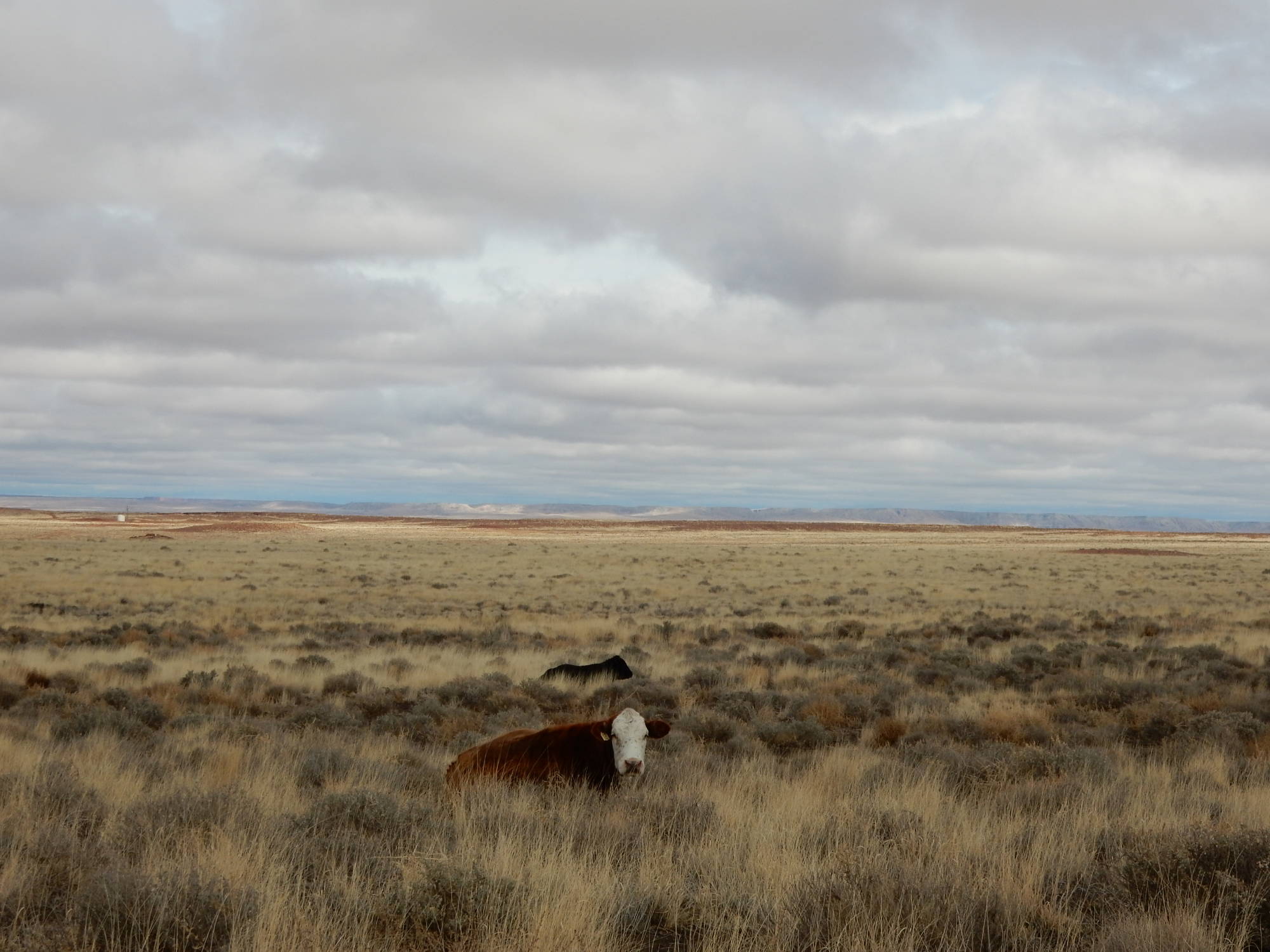 We moved down to the third ledge that seemed only for parking so we looked for a hiking trail to the bottom. We noticed a couple walking down below closer to the falls and patiently let them have their time, as we know how special these moments can be.
We drove down to the fourth and very last ledge and started our descent. We dressed Faith in her sweater and cape and also put on extra layers of clothing. The hike was fairly easy at first but some of the rocks became slippery as we descended. Just like life! Nothing prepared us for the majestic beauty that was waiting for us at the end of our walk but I will try and portray this to you.
As we walked along the banks of this flowing water, we attentively listenedto the sound that could only be heard from below. Me, always pushing for the best… wanted to go closer to the falls… muddy or not! We already had huge amounts of mud surrounding our hiking shoes but we still moved onward. Our feet were feeling heavy yet now Faith was pulling onward to see the grazing cattle ahead. She kept us from staying in one place too long and sinking into the abyss.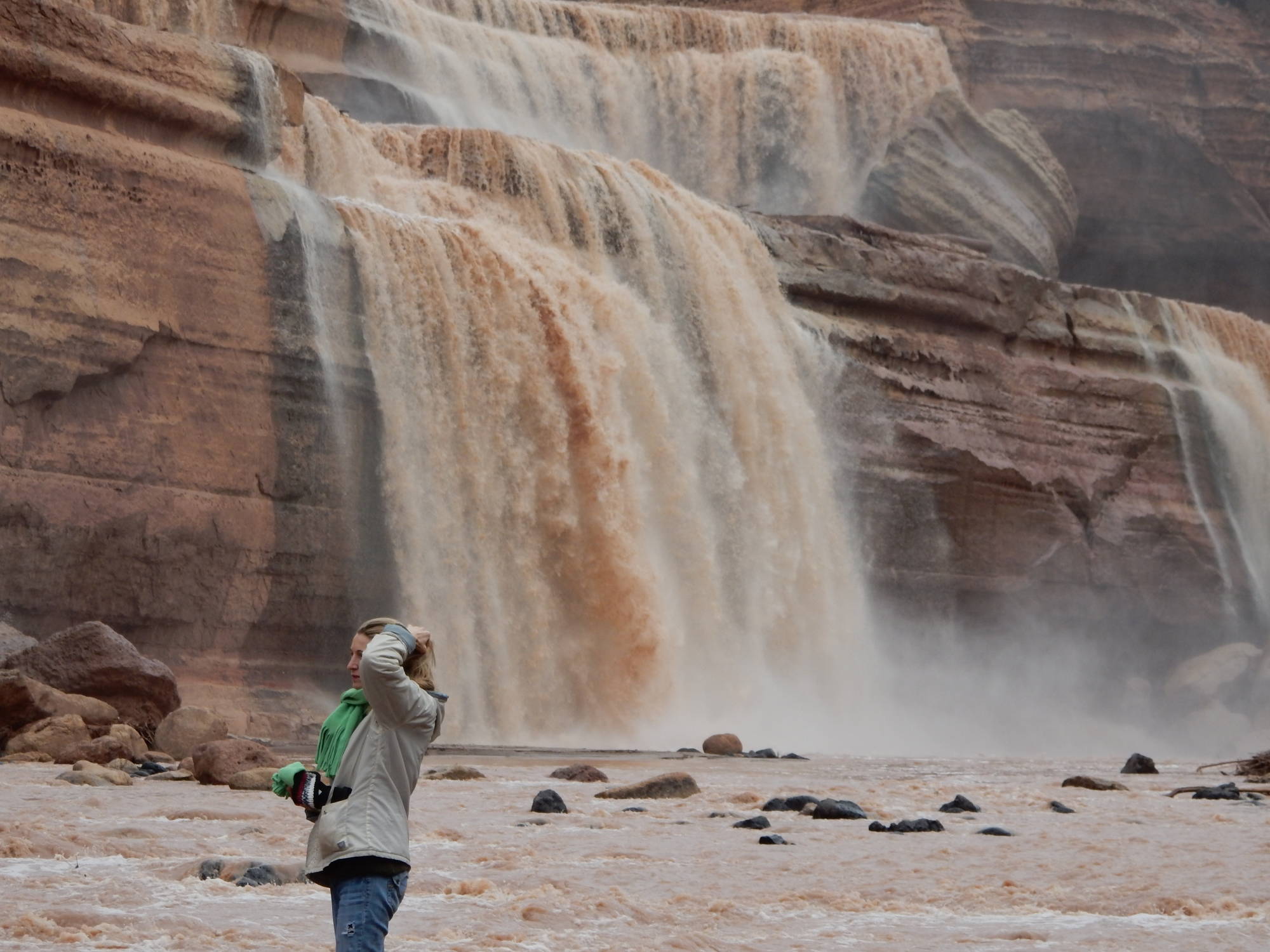 Anthony found the perfect hill closer to the falls for us to rest on. I hesitantly looked away from the drawing of the hypnotic water to see another lovely site. Red volcanic rocks were calling us closer to enjoy their niches and small cave like hiding places. Tumbleweeds were growing there and some were blowing about hoping to land into the adventure of the river. Faith chased a few and playfully wrestled with them as they blew past her.
Again, I looked up to see more visitors arriving and knew our alone time was coming to an end. I looked around for a place to perch and found stones lying all around. I could not help but wonder if others had thrown down their stone cares from up above too! I found a perfect stone that fit effortlessly to my feet and squatted down to gather my closing moments with this Grand Falls. I closed my eyes and could only hear the rushing falls and feel the wind rushing all around me. I took time to meditate and pray for my family and welcome a blessed new year into our lives. As I was finishing up, with my eyes still closed, the mist of the falls blew over my way and damped my face. I smiled and welcomed the spray of blessings. I opened my eyes and felt ready to ascend back up the cliff to allow others to enjoy their journey.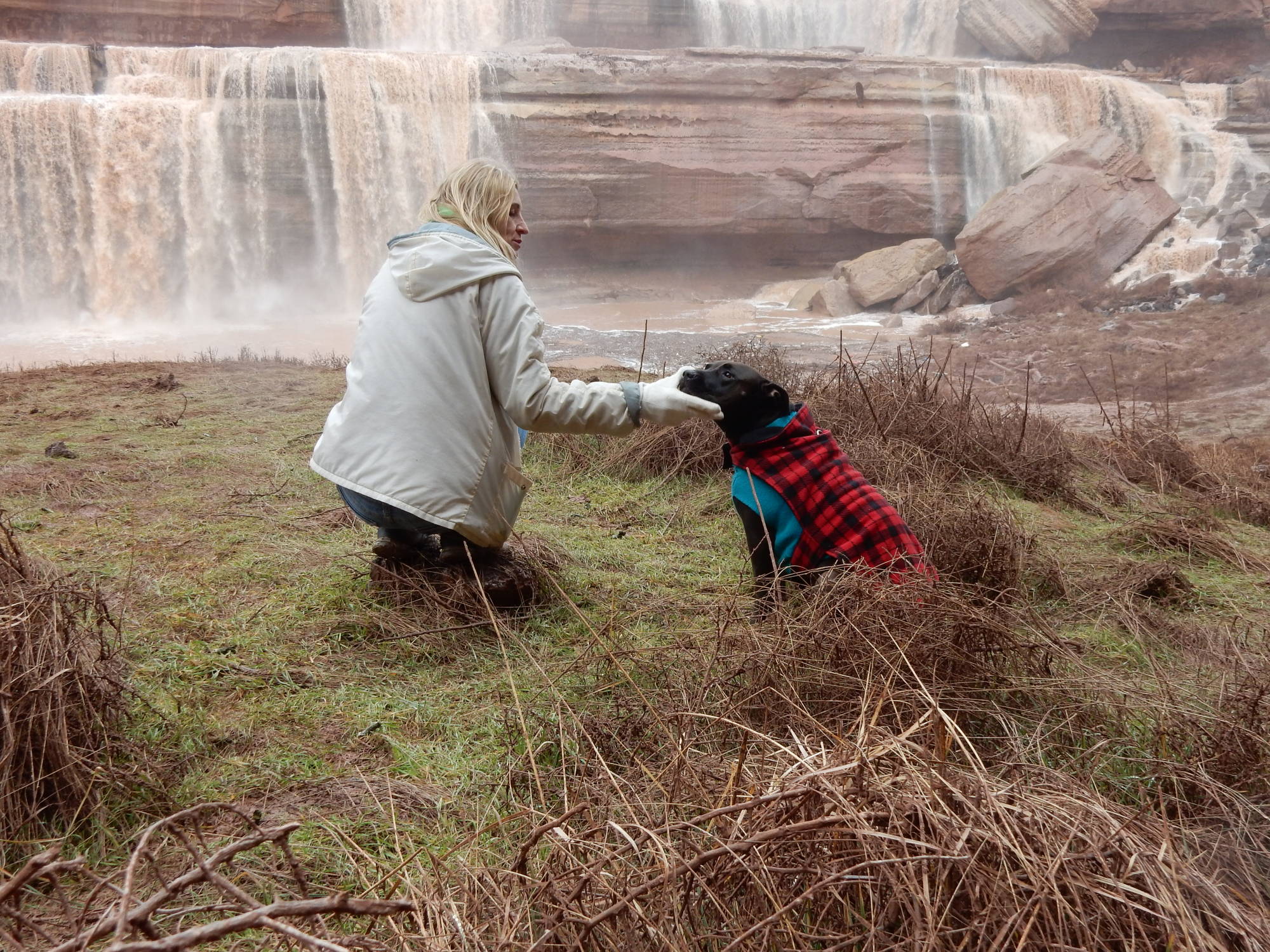 Sun set was fast approaching so we drove away knowing how blessed we truly are!
Here is some more information for you in case you would like to visit here too!
Grand Falls is one of the five highest waterfalls in Arizona. At 185 feet high it is taller than Niagara Falls (183 feet) though not nearly as wide (est. 200 feet). Grand Falls is part of the Little Colorado River and its headwaters are in the White Mountains in eastern Arizona and western New Mexico. Grand Falls is so muddy it is also known as Chocolate Falls or Muddy Falls. (Rubber Boots suggested)
Most of the year Grand Falls does not flow. It is so dry Navajo Route 70 crosses the Little Colorado riverbed just above the falls, as do several other crossings. Grand Falls typically does flow 7-8 times a year. It flows for two reasons: snowmelt in the White Mountains in March and April, and a few days after a heavy rainfall. Your best chance of seeing the falls flowing is to go a few days after a heavy rainstorm in eastern Arizona. There is a USGS water height and flow gauge for the Little Colorado at Winslow, Arizona. Winslow is upstream of the Grand Falls. If there is a good flow at Winslow there will be a good flow at the Grand Falls a few days later. It takes about two days for a heavy flow recorded in Winslow to make its way downstream to Grand Falls. Some have suggested that you need a permit but the Navajo Leupp chapter so graciously notes that no permit is needed for visitors:
http://leupp.navajochapters.org/
After you go, maybe send an e-mail to thank the Leupp Navajo chapter for sharing their amazing Grand Falls with us!
Oil- O- Scope
Everyone experiences change and sometimes we are left with scars within our inner self. This can prohibit self-growth and accomplishments.
Negative experiences and ideas are recorded in our brains and locked into our memories throughout our lives. These memories range from mild to extreme and have a profound effect on our health and happiness. In order to become who we are intended to be, we must erase these negatives and reprogram our thoughts to make positive ideas our reality!
This Young Living Feelings kit helps me return to balance by aligning my emotions.
Try it out!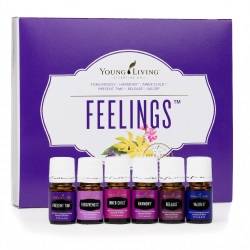 For Emotional Health: Feelings kit includes these essential oil blends:
• Valor® • Harmony®, • Forgiveness®, • Inner Child®, • Release®, • Present Time®